Charles McConnochie
(1833 – 26 December 1888)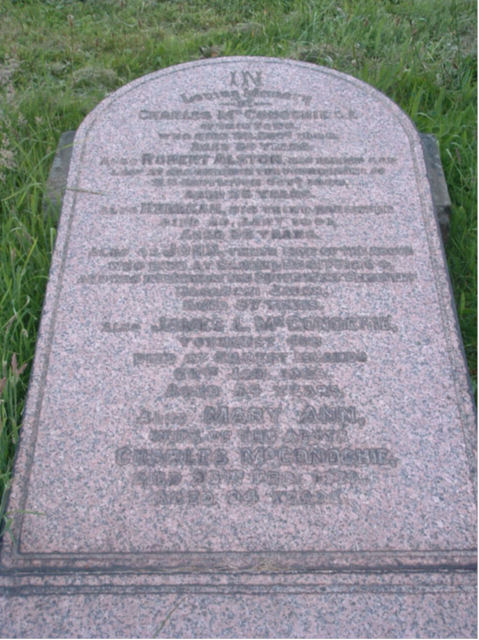 Charles McConnochie was born in Scotland in 1833. He is believed to be either a half-brother or cousin of John MCConnochie. Like his cousin/brother, Charles was an engineer, but not much is known about his life in Cardiff.
He was a marine engineer and first appears in 1871 1iving in Norton Villa (next door but one to John Billups,) on the Parade in Tredegarville. The census return shows, through the birth locations of his children that as a consulting engineer, he must have consulted widely, first in St Petersburg in Russia, then the Isle of Man, and Liverpool.
According to oral family history, he spent his time in St Petersburg working in the Winter Palace and allegedly spoke to the Tsar. Whether he 'installed the central heating' or just 'worked on the boilers' - two of the versions - I have no idea.
But it's his family that are interesting - at least 13 children in 21 years, and some of their lives are recorded here.
Robert: Story of the SS Castleton mirrors that of the Charles Grey. The Castleton left Penarth on Thursday morning, 14 October 1886, with a crew of 23, and a cargo of coal, destined for St. Lucia in the West Indies.
The following day there was a heavy storm in the Bristol channel and many ships were lost, and a few days later six wrecks were washed up in Bideford Bay. Although none of these was the Castleton, her name board was found. As this had been washed overboard on previous occasions, it was hoped that the ship had survived the storm and sailed on to the West Indies.
There was hope when other ships caught up in the storm arrived at their destination, but hope was lost when further wreckage from the Castleton was washed up. She had been carrying a crew of 23.
John: Another mariner, a ship's engineer buried in Nagasaki.
James L: died in the Gilbert Islands.
So this family certainly got around a bit.
Ruth, one of his daughters, married William Wallace Pettigrew (another Scot !), son of Andrew Pettigrew who laid out the Castle grounds for the Marquess of Bute. William was the Head Gardener for Cardiff Corporation and he and Ruth lived in the gardeners house in Roath Park.
They are buried just across the way.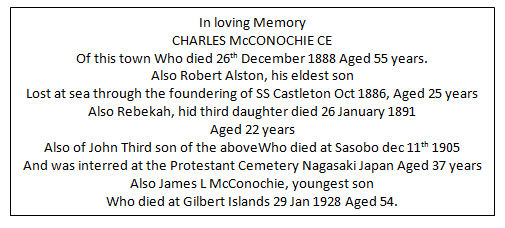 SOURCE: Gordon Hindess - The Mid-Summer Heritage Walk