Claude Percival Hailey (1875-1938)
He was born on 20 September 1875 and grew up as part of the Congregational Church in Charles Street, attending Howard Gardens School. He began his career, at the age of 18, in the secretary's office of the old Taff Vale Railway Co and, in 1896, joined Sir Joseph Davies at the docks. This firm specialised as financial advisers and as railway rating and parliamentary experts. Later the firm published a series of publications which included the "South Wales Coal Annual", the standard authority on the coal trade of South Wales. Claude Hailey was at one time director of about 30 companies, including the Celtic, North's, and South Rhondda colliery companies. In 1914 he succeeded Sir Joseph Davies as secretary to the South Wales Coal Freighters' Association, and was one of the secretaries of the Cardiff Coal & Shipping Exchange Co.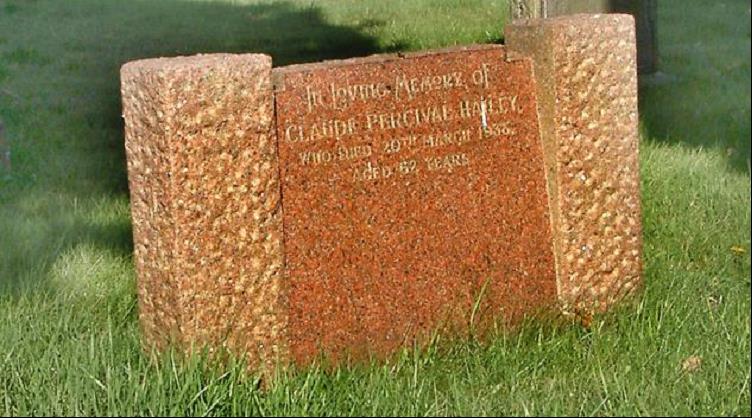 He married Gertrude Seward and settled in Llandaff, residing in The Parade (some references suggested that it was Westbourne Crescent, which is contiguous with it). Today, we might regard this as Whitchurch but, nevertheless, it was an address entirely suited to his position and status. Despite his undoubted business acumen, he was always concerned foremost with the welfare & well-being of employees and not necessarily commercial performance and balance sheets.
As a sportsman he excelled, winning the South Wales Tennis Championship 3 times. Golf, cross-country running and billiards also appealed: clearly fresh air and recreation were considered vitally important to this office bound administrator.
The Congregational Church dominated his private life, for as well as being a deacon, he was choirmaster & organist at Christ Church, Llandaff; the latter being built at the turn of the century on land he had donated. He was a man of obvious intellect, deep religious conviction and always with concern and compassion for his fellow man; in fact, stereotypical of the late Victorian/Edwardian gentleman of means.
The residents of Llandaff North will be forever indebted to this mild mannered, quietly spoken, individual for the donation of the land that became Hailey Park. It was created in 1926 by Cardiff City Council after Mr Hailey bought agricultural land and donated it to the residents of Llandaff North for recreational purposes. The benefaction would equate to over £1million today. Perhaps he also saw some personal advantage accruing from this gift - The Parade sits atop the escarpment above Llandaff North Station, enjoying views across the Taff Valley … over Hailey Park!
Claude died at his home, Wycliffe, The Parade/ Westbourne Crescent, Whitchurch, on 20th March 1938, aged 63.
Source FCC Newsletter 16