Colonel Charles Harrison Page. J.P., (1826-1897)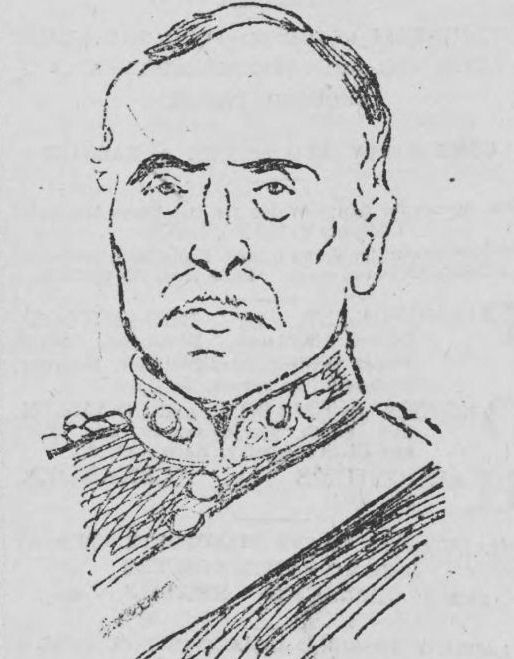 Death of Colonel Page
Evening Express 1st March 1897
ANOTHER OLD INHABITANT OF CARDIFF GONE.
We regret to announce that Colonel Page, J.P.. died suddenly at his residence, Llandaff, at half-past eight this morning. A week ago he went to Scotland on a visit to his son-in- law. Captain Dudley Stuart, and there caught a chill. On his way home on Friday night he felt very unwell, so much so that on his arrival at Llandaff Dr. Vachell was sent for, and pronounced the colonel to I suffering from conception and inflammation of the lungs and bronchitis. Nothing, however, of a very serious nature was apprehended, and on Sunday, when several of Colonel Page's most intimate friends visited him, there was nothing to indicate that his end was so near. At half-past seven this morning he took some castor oil. and even as late as that he did not seem to be so ill that his death could he anticipated in less than half an hour afterward*. The end came so suddenly that none of his relatives could be sent for before the colonel had breathed his last. Dr. Vachell was communicated with, and arrived about nine o'clock, only to pronounce life to be extinct. extinct.
BIOGRAPHICAL SKETCH.
Colonel Charles Harrison Page. J.P., Llandaff. was born in 1826, and educated at King's College. London. He was the son of the late Mr. Samuel Page, who carried on 3 large business as an architect, and lived at Dulwich, about seven miles from London. His father was married three times, and the deceased THE LATE COLONEL PAGE. was the youngest son by his third wife. He was a magistrate for the county of Glamorgan, and a Knight of the Imperial Order of St. Stanislane - an honour conferred upon him in recognition of his 25 years' service as Russian Vice-Consul at the port of Cardiff. He came to Cardiff in 1852, and for 40 years was head of the firm of Page, Ohlsen, and Co., later Page and Co.. coal and iron exporters, a firm which he dissolved in 1892. Colonel Page, in conjunction with the late Mr. Alexander Dalziel. was one or the founders of the Cardiff Chamber of Commerce in 1863, being vice-president that year, and president the following. He was vice-chairman of the Cardiff Workmen's Cottage Company, a, director of the Cardiff Gaslight and Coke Company, and retired under the age clause in 1893- After 23 years' service, from the 2nd Glamorgan Artillery Volunteers.
Source : The National Library of Wales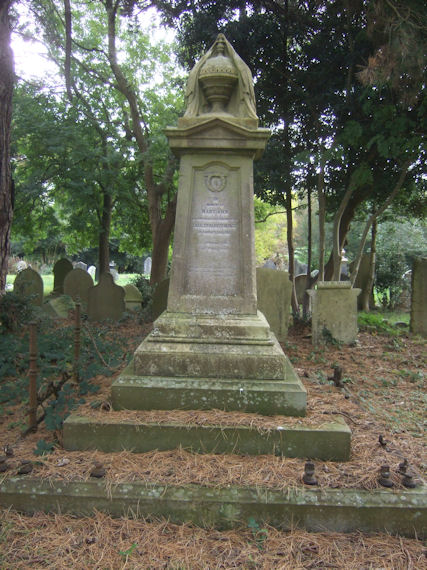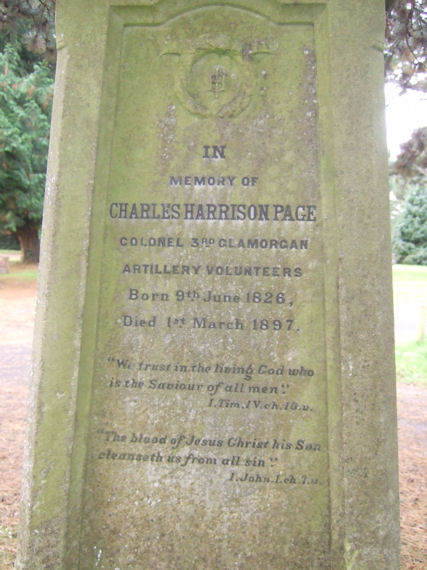 FUNERAL OF COLONEL PAGE.
South Wales Echo 5th March 1897
Impressive Scene This Afternoon. Cardiff buried one of her oldest and most respected citizens this afternoon. The mortal remains of Colonel Charles Harrison Page wore laid in their last resting place at Cardiff Cemetery amidst manifestations of sorrow and regret. The cortege left the deceased gentleman's house at Llandaff shortly before 3 o'clock. The coffin, which was of panelled oak with massive brass fittings, and which bore the inscription Charles Harrison Page, born 9th June, 1826; died 1st March, 1897, was placed in an open car. It was covered with a number of beautiful wreaths sent by Miss Page (sister), Mrs Captain Dudley Stuart (Amy, daughter). Captain Dudley Stuart (son-in-law), Vice- Admiral Sir Thomas and Lady Freeman tie, Miss S. E. C. Page (niece), the servants, Mr Charles R Waring, the members of the Cardiff Social Book Society, Count Lucovich, Sir Edward and Lady Reed, Mr and Mrs Insole (Ely Court), Mrs R. and Mr H. T. Simpson, Mr and Mrs Thackeray, Mr Fred L. Davis (Coldre), the directors of the Cardiff Workmen's Cottage Company, Mr and Mrs John W. Sandeman, the Misses Ella and Ina Sandeman, the Misses Bird (Penarth), Sir Edward Hill, K.C.B., M.P. (Rookwood), and Mr Walter Insole. One of the most beautiful wreaths was that made by the head gardener of the deceased gentleman. Leaving the house the hearse was followed by three carriages, containing members of deceased's family, in the following order First carriage - Capt Stuart and son and Miss Page (sister) 2nd carriage - Major Flood Page and Miss E. Page; 3rd carnage - Mr Philip Page and Mr Dudley Stuart. After these came a largo number of private carriages. The procession moved to St. John's Church, Canton, whore the Rev. A. Henderson (vicar) conducted a short service, at the close of which the procession reformed, the Rev. A. Henderson being in a carriage that preceded the hearse. Shortly after 4. o'clock the cortege reached the Cemetery, where a large number of the deceased gentleman's friends who had not been in the procession had assembled as a last token of their affection and respect for the deceased. The remains were laid in the family vault, which was beautifully lined with ferns and lilies of the valley. Amongst those who bore the coffin to the grave were Mr W. J. Hotkey (deceased's head gardener) and the under gardener. Rev. A. Henderson officiated at the graveside. The funeral arrangements were admirably carried out by Messrs G. Stone and Co., 11, Working-street.