John Jones
(1859 – 1883)
All too often memorials leave no clue as to the life story of the person being commemorated. Although this is a high quality memorial, not many people would take an interest if just the name John Jones was inscribed were it not for the additional information.
Many of the memorials on the tour are included only because there is some additional information which gives the hint of an interesting story.
Here we see that John Jones was the chief engineer of the James Gray a ship that was lost off Porthcawl in 1883.
There was nothing special about the James Gray. She was a 78m steam powered cargo ship from Whitby that had only been built six years before it was lost. It was carrying a cargo of coal from Cardiff to the Cape Verde islands, when it lost power in a storm of Porthcawl. She tried to anchor but was dragged onto the Tasker rocks. The storm was so strong that the Porthcawl lifeboat could not reach her.
The entire crew of 23 was lost, together with the captain's wife and child.
But the storm of 27th Jan 1883 was no ordinary storm. Two other ships were lost that day off the south Wales coast ...
The Agnes Jack, carrying lead from Sardinia to Llanelli was lost off Port Eynon with the lost of all hands - a crew of 17 - and the local Llanelli pilot. The loss of this ship led directly to the establishment of the lifeboat station at Port Eynon.
And just by the Mumbles lighthouse, Admiral Prinz Adalbert, a sailing ship registered in Danzig, became unmanageable when she lost her sails. She was carrying 900 tons of pit-props to Swansea from Rochefort in France. A rescue attempt was made by the Mumbles lifeboat, but as the crew were being winched from the stricken ship, a wave capsized the lifeboat. Four lifeboatmen and a crewmember from the Admiral Prinz Adalbert lost their lives. The survivors struggled to shore where they were helped by the small community living around the lighthouse, including the lighthousekeeper's two daughters, whose heroism is recalled in the poem "The women of Mumbles Head" In all 46 people were lost that day.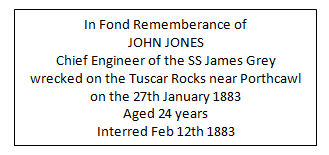 SOURCE: Gordon Hindess - Summer Heritage Walk