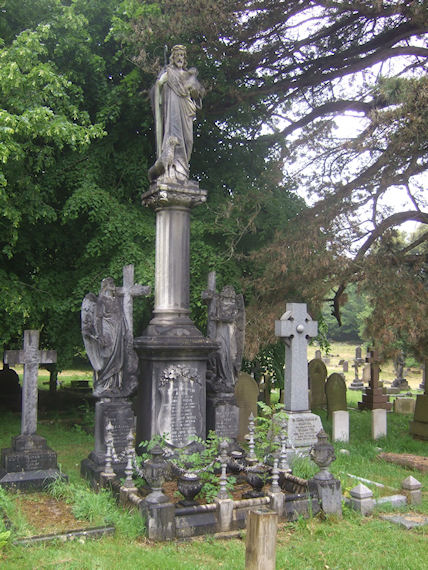 John White (1833-1910)
This is undoubtedly one of the most impressive memorials in the cemetery, not least because of its sheer size. It was erected in 1910 to John White, who was the father of a well-known local amusement caterer, Mr Sidney White. John White, who died from heart failure at the age of 76, not only has an exceptional memorial but also had an unusual funeral, as this report from the South Wales Echo of 1910 shows:
Novel Sight at Cardiff
The dying wish of Mr John White, father of Mr Sidney White, the well-known amusement caterer, that his remains be drawn to the cemetery at Cardiff by one of his son's traction engines, was fulfilled this afternoon. The traction engine was draped in purple and black and was covered with many beautiful floral tributes. An exquisitely designed floral harp was fixed to the front of the engine and suspended above it was a design of the Prince of Wales feathers, composed of choice flowers.
The cortege left the residence of the deceased in Tin Street shortly before 3 o'clock and so dense was the crowd that the road had to be cleared by police. The line of the route – Newport Road, Queen Street, Park Place, Cathays Terrace, and right up to the cemetery, was thronged.
Sydney John White (1860-1938)