Louisa Maud Evans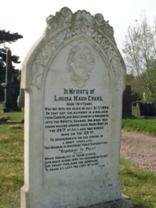 A young girl who died in a freak ballooning accident during the Cardiff Exhibition of 1896. The memorial was paid for by public subscription.
On the 24th of July 1896, the body of a young girl washed ashore at Nash point (close to Newport. Identified by the sailor suit she wore, it was obvious to those who pulled her from the mud of the Bristol Channel that this was Balloon Girl.
Three days before, Balloon Girl, real name Louisa Maud Evans, ascended in a balloon from Cathays Park. Part of the Cardiff Maritime and Industrial Exhibition, this stunt would be the crowd puller, a descent by a young girl using the latest in Parachute technology from a balloon was not to be missed. As a result this event on the 21st of July attracted over 100,000 people. The brave aeronaut was supposed to ascend in the balloon and then descend by parachute unharmed on the outskirts of the city. The plan was for the heroine to be collected at this point by horse and carriage and make a glorious return to the crowds at the Exhibition field.
Louisa had decided on the exotic show name of Mademoiselle Albertina. Louisa sewed herself a sailors suit, navy collar with white trim, a white smock, and a straw bonnet.
As the crowd cheered, Louisa quickly took to the sky. In a matter of seconds she was high above the houses of Adamsdown, Roath and Splott. Many from the Docks could see Mademoiselle Albertina; picnicking families who lined the Penarth cliffs to see this amazing sight could even see her. The balloon travelled at great speed over Newport Road and the infirmary, where the wind suddenly dropped, causing the balloon to rapidly gain height.
5,000 feet in the Cardiff air, Balloon Girl had no choice but to release herself from the harness and parachute into the Bristol Channel. Her heavy parachute, made from cloth and wood, weighed over 30lbs. It was this apparent lifesaver that dragged her to the murky depths of the water. Louisa Maude Evans drowned at the age of 14 and half years.
The people of Cardiff paid for her tombstone and funeral via subscription. Her body now rests at Cathays Cemetery.
Source: inmemoryofballoongirl.blogspot.co.uk
See "Cathays Cemetery Cardiff - on its 150th Anniversary" pp56-8
See also fcc newsletter 7 pg3
See also fcc newsletter 8 pg3
Her grave memorial is Number 18 on the Cathays Cemetery Heritage Trail.