Ole Pedersen
Searching for Ole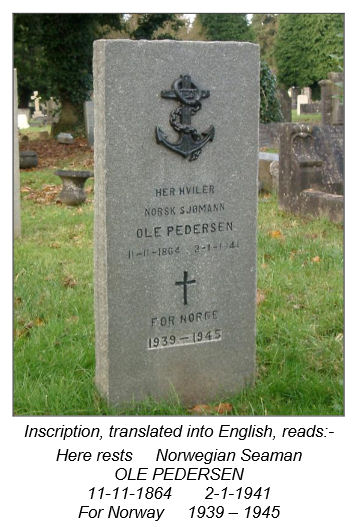 In the south-east corner of Section E-G is an area of Scandinavian graves, which includes 4 of Norwegian sailors marked with official memorial headstones. All four died on 2nd January 1941, the date of the Cardiff Blitz. But looking carefully at one of these, and doing a little arithmetic, shows that Ole Pedersen was 76 years old. Could he really have been a serving sailor?
Checking convoy records indicated that there was indeed a Norwegian merchant ship, the Braganza, in port, having arrived from Halifax, Nova Scotia four days earlier. However, the Braganza appears to have survived the raid unscathed, as it was soon off to South America with another convoy.
Further searching of Norwegian naval records, gives his rank as civilian and includes an address of 217 Bute Street. At a meeting of the Welsh Norwegian Society, we find a lady who had been a young girl in 1941 but whose father had managed the Norwegian Seamen's Mission at the time. She recalled that the Mission had been hit during the raid and had a vague recollection of a janitor who had survived the initial blast, but had died when he went back into the burning building to try to rescue those still inside. It would be nice to think that this hero was Ole Pedersen.
Source: fcc newsletter 13 pg6