Richard Cory (1830-1914)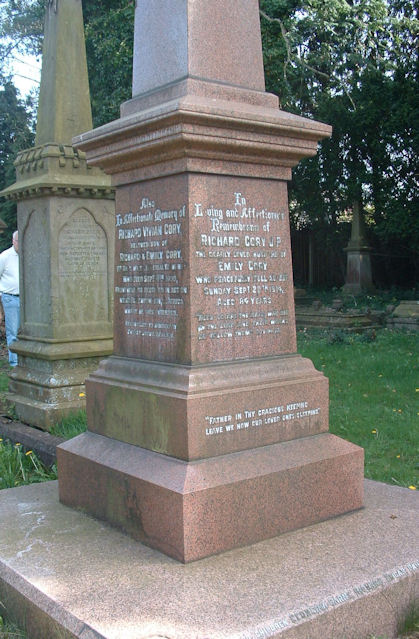 Richard Cory was born at Bideford in February 1830. He was about two years younger than his brother John. His wife Emily was born in 1832 at Gwinear, near Hayle in Cornwall. In 1881 their address is given as Oscar House, Newport Road, Cardiff, where they lived with their sons, Saxton (25), a merchant clerk, and Theodore (6), and daughter Mable (10), along with a cook and housemaid. Richard shared in some of John's philanthropic projects, and also had his own interests. He was a Baptist and founder of Tredegarville Baptist Church (built 1862), which became his home church. W. Johnstone says that he had 'a burning zeal for the spread of the Christian faith'.
Generous
This belief had a very practical outworking. Richard put personal inconvenience aside and was often to be found 'in some of the lowest streets in Cardiff, at the bed-side of the poor and the sick, with God's Word and prayer to comfort, and his purse to show practical sympathy'. He kept most of his charity concealed from the public eye. Richard supported the Baptist and other denominations, and contributed to Spurgeon's orphanage and similar institutions, such as Dr Barnardo's. He had warmly embraced the evangelical faith and entertained many of its leaders, such as Dwight L. Moody. In 1890, the evangelist Rev. John Pugh of Clifton St Presbyterian Church, Newport Rd, Cardiff, saw criminal gangs outside Cardiff Prison waiting to recruit recently released prisoners. He contacted Richard and John Cory and went with them to meet the prison Governor, Major Howard. Within a year, their Society for the Aid of Released Prisoners had provided a free breakfast to over 2000, followed by hymns, a gospel message and an appeal to come to Christ for a new life and new start
Diligent
Richard often took part in stone-laying ceremonies, as new Baptist churches were built or extended, and was known to lay 10 golden sovereigns on the stone as an offering to the cause. He served on the town council for 25 years and was a J.P., so would hear all about people's problems. He relieved the needy, fed the hungry and assisted widows and orphans. He was assiduous as a major partner in his firm, Messrs Cory Brothers & Co. Ltd, and visited major ports and cities in many parts of the world to establish business connections. Richard fell asleep at Llandrindod Wells on 20 September 1914. His wife and children erected a memorial stone in his church recording that he was 'a pioneer of the Temperance cause. His generosity, benevolence and sympathy were worldwide… 'His desire to do the will of God, his unwavering fidelity to His Word, and his zeal in all efforts for the extension of Christ's kingdom were an example to all and an inspiration to many. "Whosoever shall confess me before men him will I confess also before my Father which is in heaven" (Matthew 10:32)'. Richard Cory lies buried with his wife in Cathays Cemetery, Cardiff. He directed that one eighth of his estate of £600,000 be put in trust for ten years, with the interest divided among various religious and charitable causes.
SOURCE: Evangelical Times