Stephen Treseder
(1834-1909)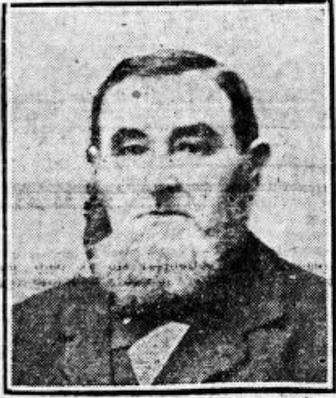 Nurseryman, Pwllcoch Nurseries, Cardiff, was born near Truro, Cornwall, in 1834, and was educated at a private school in that town. He went to Australia in 1852, and after a residence of fourteen years in that country returned to Cardiff in 1866, when he purchased the business of the late Mr. J. S. Matthews, Nurseryman, - For the last twenty years he has given particular attention to rose culture, and has been a most successful exhibitor at all the principal flower shows.
SOURCE: Contemporary Portraits 1896
OLD CARDIFFIAN DEAD
Mr. Stephen Treseder, florist and nursery man, died at his resident 377 Cowbridge- road, Cardiff, on Saturday, in his seventy-sixth year. Deceased, who was a native of Truro, went out to Australia early, in life, when the gold boom was at its height, and was in that country and New Zealand for fourteen years. A little over 40 years ago he came to Cardiff and started business in Canton as a florist and nurseryman. Mr. Treseder, who was a. brother of the late Mr. William Treseder, of Cowbridge-road, was prominently connected with the Wesleyan body in Cardiff, having filled offices in the Canton Circuit. He never took much active part in public life, but for a short time he was a member of the Llandaff Parish Council. After his retirement he paid a visit to his brothers in Australia and New Zealand. About four years ago he had a paralytic seizure, from which he never recovered. He leaves a widow and two sons.
EVENING EXPRESS 11 October 1909
Source: Welsh Newspapers Online
OBITUARY
Mr Stephen Treseder, Cardiff. We regret to announce the death, which took place on Saturday morning, at his residence, Cowbridge-road, Cardiff, of Mr Stephen Treseder. The deceased, who was in his 76th year, had been in failing health for the past three years. He was born at Truro, and when quite a young man went out to Australia at the time of the gold mining boom, and spent 12 or 13 years there. On his return to this country he turned his attention to gardening, and more than 40 years ago he started business in Cardiff as a florist and nurseryman, on the ground in Canton close to the present site of Victoria Park. In the course of years he worked up a flourishing business, and subsequently took his son, Mr Arthur Treseder. into partnership. Ten years ago the deceased retired, leaving the business to his son. Deceased, who was a brother of the late Mr William Treseder. married a Miss Arthur, of Llangibby, by whom he had two sons, Mr Arthur Treseder and Mr Percy Treseder, both of whom, with the widow, survive him. Mr Stephen Treseder was a Wesleyan Methodist, and took a keen interest in the affairs of the connexion. He was formerly connected with Conway-road, but when the Victoria Park Chapel was opened he became a member there, and to the last took an active part as an office bearer in its administration. The remains were interred at the Cardiff Cemetery on Wednesday afternoon of the late Mr Stephen Treseder. the well-known florist, of Cowbridge-road, who died at the age of 76, last Saturday. Mr Treseder, after 12 or 13 years in Australia. during his early life, settled in Cardiff 40 years ago, and started business as florist and nurseryman. He retired 10 years ago, leaving his flourishing business to his son, Mr Arthur Treseder.
The funeral was largely attended, among those present being Alderman F. J. Beavan, Councillor C. F. Sanders, Mr R. W. Pettigrew (Cardiff Parks' superintendent), and the Rev. J. H. Walker (St. Paul's Congregational Church, Cowbridge- road). The mourners included Messrs Arthur and Percy Treseder (sons). Master Ronald Treseder (grandson). Messrs John, Fred, Samuel, Richard, James, Frank and George Treseder (nephews). The services were con- ducted by the Revs. W. J. Lester, J. Kernick, and T. N. Phillipson. The body was enclosed in an oak coffin with solid brass fittings. The undertaker was Mr Augustine J. Stone
THE CARDIFF TIMES 16 October 1909
Source: Welsh Newspapers Online