Thomas William Hart Plain (1828-1908)
A Madcap Idea
Thomas Plain had founded a shipbuilding company in 1872 in Cardiff under the business name Davis and Plain. It had set up business especially to build Bristol Channel Cutters, which many maritime writers believe to be the finest fore and aft rigged small sailing craft of their period. Many of these ships doubled up to serve as both fishing and pilot boats.
A Welsh pilot cutter was always referred to as a 'yawl'. The average dimensions of a Bristol Channel pilot cutter around 1900 would have been 40- 50ft in length, with a width of 10-11ft and draft of 7-10ft. Cotton sails were used for summer and flax in winter. The first letter of the port was written in capitals with the last letter in lower case, accompanied by the pilots own personal number.
Various regattas were held at the Bristol Channel ports and often included pilot boat races. The POLLY, built by Davis and Plain at Cardiff in 1878 for pilot Tom Williams won many trophies.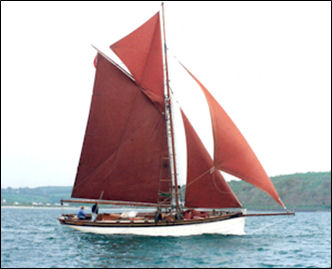 Another Pilot Cutter built in 1875 by Davis & Plain was the Madcap, a pilot cutter that is believed to be one of the oldest still surviving in Britain. It is now located in Carrickfergus in County Antrim, Northern Ireland with the National Historic Fleet.
Thomas William Hart Plain was living in Park Place in 1876 and is buried in the family grave in Section L plot number 1452/1468. He died 12th Jan 1908, aged 80.
Source: Not so Grave News -May 20XX Issue Nº XX