Walter Murray Pengelley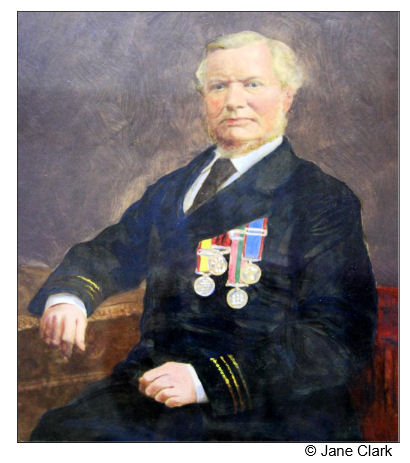 [Dock]Master and Commander
Occasionally you come across a memorial in the cemetery that is just crying out for further research, and it was during a work-day that one such headstone was found.
The inscription begins: "In memory of Ruth Evelyn daughter of Araballa Sarina and Commander W M Pengelley Indian Navy ...."
Who were the Pengelleys? Where did they come from? And what were they doing in Cardiff?
Walter Murray Pengelley was born in about 1824 in Devon, son of Henry Pengelley RN, and his obituary in the Western Mail tells us of some of his achievements during his military career which began when he was only 16:
"He took part in the China Expedition ...., and was present at the storming of the city of Ching Keang Foo in the forties . He also helped quell the native rebellion in New Zealand, being attached to the Naval Brigade. During the Crimean War he served in the Turkish Contingent as director of the Land Transport Corps, a position that he filled with so much distinction that he was afterwards selected ... to serve in a similar capacity with the Persian Field Force".
And according to another source he was rewarded for his service with the post of British 'political agent' in Muscat in 1861-2. At some point in the early 1850's he was given 6 months sick leave and was allowed to travel anywhere (except to Britain). He took the opportunity to join a hazardous expedition up the Nile to Khartoum in the Sudan.
Following this he took a ship to Smyrna in Turkey where he became acquainted with the Revd Buchner Lewis who was British Chaplain there, and more especially with his daughter Arabella. He had to return to duty, but at the first opportunity returned to marry her in 1854.
The Smyrna connection is key to the Pengelley family history. Their first five children were either born or brought up in Smyrna, and many of their descendants retain strong links to their Levant heritage, a fascinating subject in its own right.
In about 1862, following his retirement from active service, Walter and Arabella settled permanently in Cardiff in Penarth, and had a further ten children. For more than 10 years Walter was Deputy Dock Master at the West Bute Dock, before becoming Dock Master at Penarth, a position he held to the day of his death.
The family lived at 'The Ferns' in Penarth, overlooking the docks and Cardiff Bay, probably one of the best addresses in the town, and played an active role in the social life of Penarth and Cardiff. He helped set up the Seaman's Mission in Penarth, was a founder member of the Penarth Conservative Association, and a warden at St Augustine's Church. He was often listed in the Western Mail as having attended some big banquet or other, or someone's wedding, or funeral.
He died on 29thDecember 1897 and is buried at St Augustine's.
Source: fcc newsletter 6 pg5