John McConnochie (1823-1889)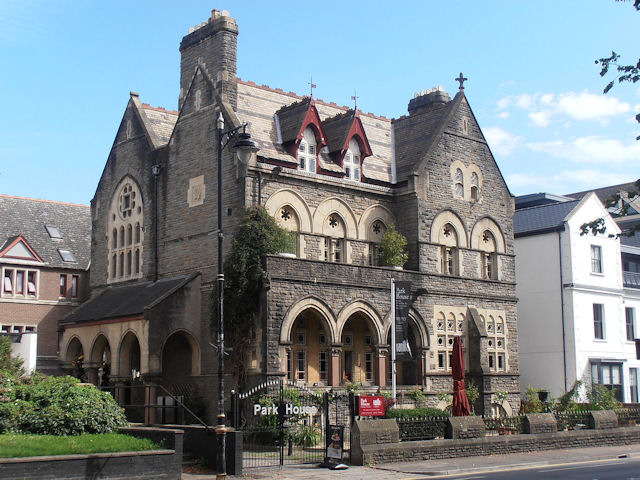 Source: Ham - Own work
Park House, formerly known as McConnochie House, is a town house in Cardiff. It was built for John McConnochie, Chief Engineer to the Bute Docks, by the Gothic revivalist architect William Burges. It is a Grade I listed building. "By its powerful early French Gothic style, its steep roofs and boldly textured walls (the house) revolutionized Cardiff's domestic architecture." Commissioned by McConnochie in 1871, the house was completed externally by 1874, although decoration of the interior continued, somewhat slowly, until McConnochie's Cardiff mayoral year of 1880.
Source Wikipedia
JOHN MCCONNOCHIE was born on 9th October 1823 at Port Patrick, Wigtownshire, where his father was then engaged on the harbour works under Sir John Rennie.
He was educated at the local school and at the Andersonian University, Glasgow, with a view to becoming a civil engineer, and his training commenced by his being placed for a short time to work in a mason's yard.
For mechanical engineering he was then apprenticed to Messrs. Robert Napier and Sons, Glasgow; and acted for a short time as engineer on board the steamer running between Ardrossan and Belfast.
He was next placed in the office of Mr. Thomas Kyle, engineering surveyor, Glasgow, whence he was transferred in 1846 to that of Messrs. Walker Burges and Cooper, London, by whom he was sent as assistant resident engineer to the government harbour works at St. Catherine's Bay, Jersey. There he remained until 1855, with the exception of one season when he was sent to assist Mr. Nicholas Douglass in the erection of the Bishop Rock Lighthouse on the Scilly Islands.
In 1855 he went to Cardiff as resident engineer for Messrs. Walker Burges and Cooper on the extension works of the East Bute Dock; and on the death of Mr. James Walker in 1862 he was appointed chief engineer of the Bute Docks, which position he retained during the rest of his life.
He designed and carried out the Roath Basin, Roath Dock, and many contingent works at the Bute Docks, of which he presented descriptions to this Institution in his papers read at the Cardiff Meetings in 1874 and 1884 (Proceedings 1874 page 119, and 1884 page 227). In conjunction with the Marquis of Bute's managing trustee, Mr. John Boyle, he had the satisfaction of seeing and providing for the extraordinary growth of the trade of the port of Cardiff, to the interests of which he may truly be said to have conscientiously devoted the best part of his life. His long experience led to his being frequently consulted on dock matters.
In 1880 he was elected mayor of Cardiff, and subsequently an alderman of the borough and justice of the peace.
His death occurred from heart disease on 28th March 1889 in the sixty-sixth year of his age.
Source Grace's Guide