William Alexander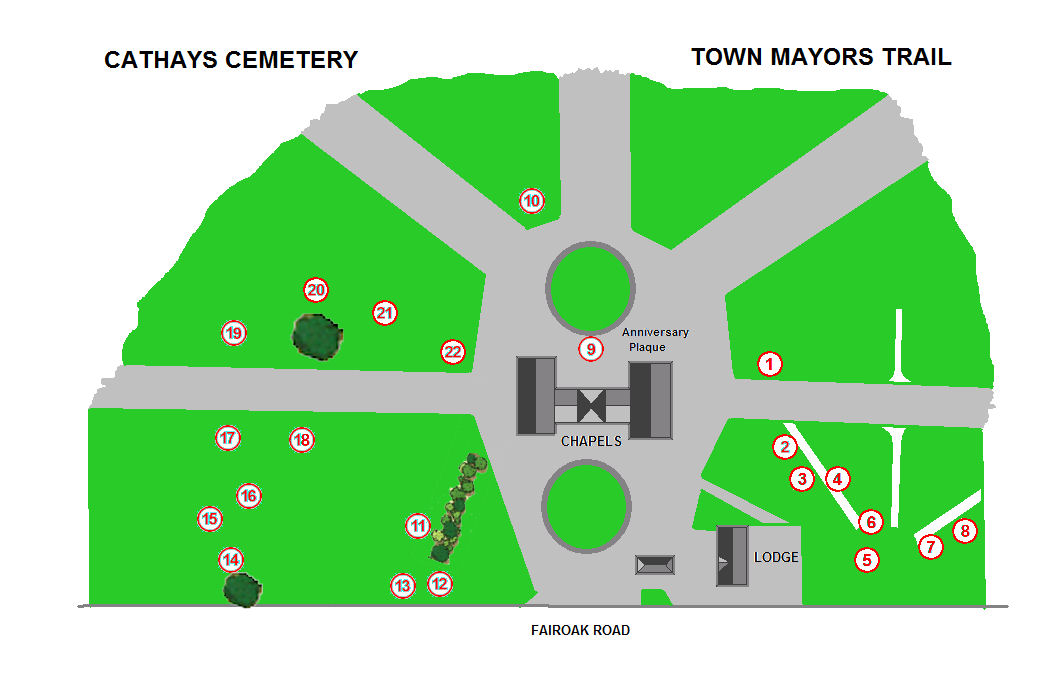 Number 4 on the Victorian Mayors Trail.
Plan by Ivor Lippett.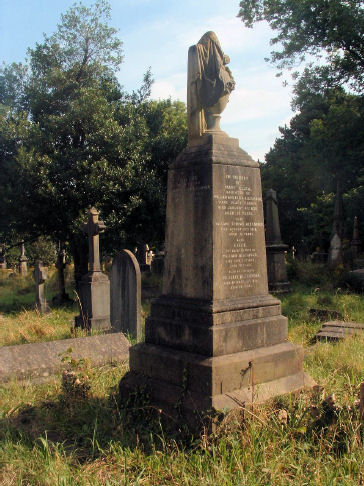 Photo by Paul Jones.
The drinking fountain set into the wall at Kingsway (Boulevard de Nantes and Greyfriars Road at the bridge over the dock feeder canal) has moved several times since its initial installation in 1862. It was donated by Mayor William Alexander and installed in the wall of the Town Hall at St. Mary Street in Cardiff.
The cast iron frame is in the form of a stylized shield with curved and winged edges. The top part of the shield forms a lunette of a winged cherub resting upon clouds. Beneath the cherub is a recessed arch which contains the drinking well above which is a Biblical engraving.
Each side of the arch is decorated with ivy tendrils. On the left side is a seated figure of Jesus Christ pointing with his left hand to the engraved verses 13 and 14 of St John's Gospel, Chapter IV. JESUS SAID UNTO HER, WHOSOEVER DRINKETH OF THIS WATER / SHALL THIRST AGAIN: / BUT WHOSOEVER DRINKETH OF THE WATER / THAT I SHALL GIVE HIM, / SHALL NEVER THIRST. / JOHN, IV, 12 . 14. On the right of the drinking well is a seated figure of the Woman of Samaria with her right hand resting on her cheek and her left hand on a tall urn.
Beneath the well is a dedication, ERECTED / BY / WM. ALEXANDER / MAYOR OF CARDIFF / A.D. 1860. The scalloped lower edge of the shield is also engraved, CAST BY THE COALBROOKDALE CO. Further engraving states, WILLS BROTHERS, SCULPTORS, LONDON.
The fountain was designed by W. & T. Wills and manufactured by Coalbrookdale Company Ltd. During planning of the Civic Centre, it was moved to Mill Lane in 1908, and once again relocated in 1952 to its present location. It was listed a grade II historic building in 1975.
Source:
http://memorialdrinkingfountains.wordpress.com/tag/mayor-william-alexander/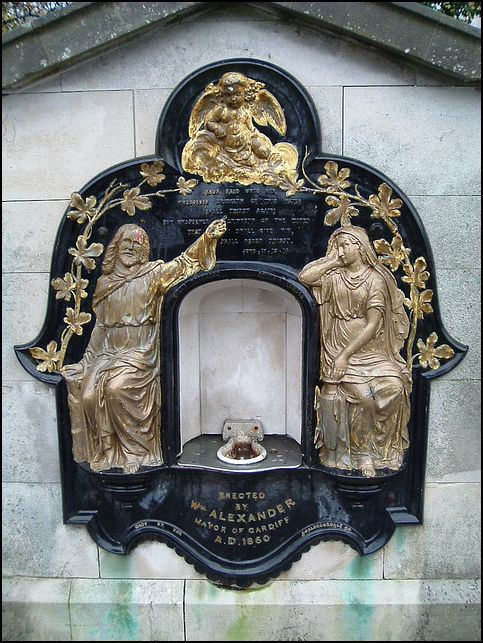 Images Sources:
https://www.flickr.com/photos/roath_park_mark/69113463/