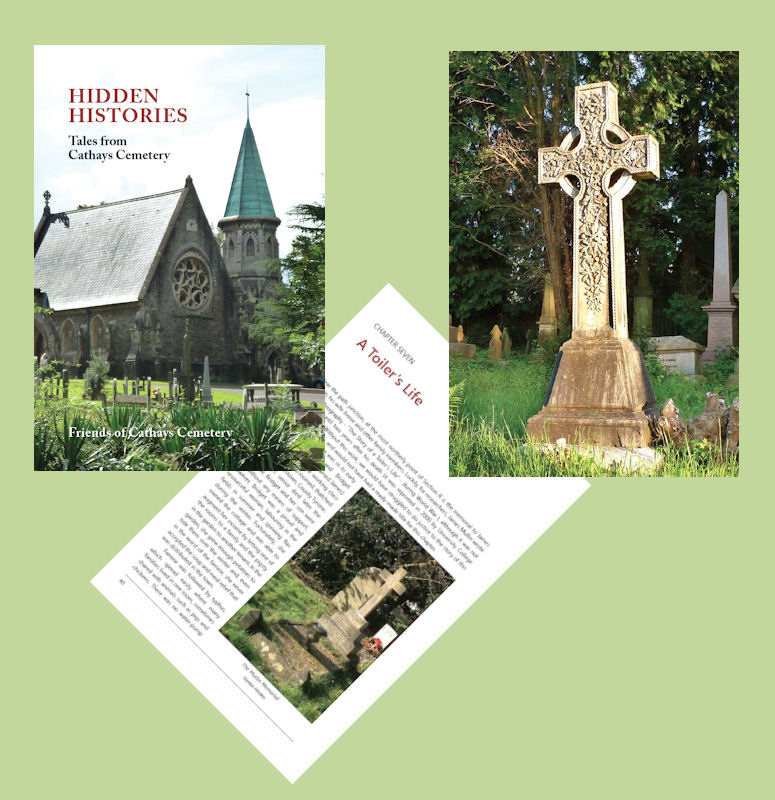 The Brand New 96-page book written by the Friends entitled 'Hidden Histories - Tales from Cathays Cemetery' is now available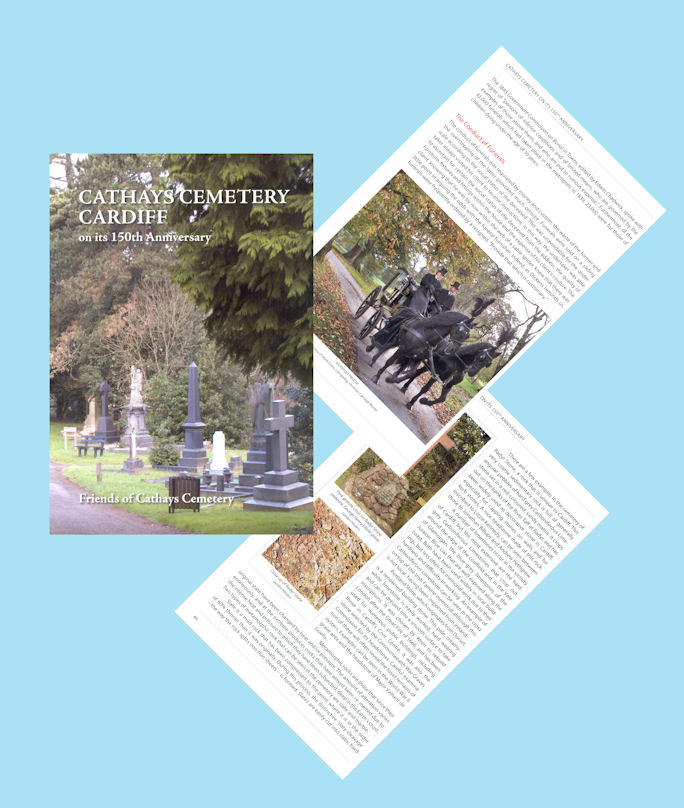 Meanwhile our 100-page Softcover book written for the 150th Anniversary of the Cemetery in 2009 is still available at:
Walks, Talks and Activities at the Cemetery or can be purchased direct from Thornhill Bereavement Services Office.
Both books are also available by Post (in the UK) by sending your name & address and a cheque for £13 for the new book 'Hidden Histories' or £8 for the150th Anniversary Book (both include Postage & Packaging) to:-
Friends of Cathays Cemetery c/o Bereavement Services Thornhill Cemetery Rhiwbina CARDIFF CF14 9UA
Cheques should be made payable to "Friends of Cathays Cemetery".
All overseas orders please email us for costing.

New FoCC Booklets Now Available at all FoCC Events
The Friends are proud to announce a seies of titles in their booklets series. These publications average 20 pages and are available at FoCC Events for £1 (except were noted). The following Titles are available:
1. Tree Tale Trail (Colour £2) --SOLD OUT--
2. Murder at Cathays --SOLD OUT--
3. Symbolism on the Memorials --SOLD OUT--
4. Shipowners at Cathays - A Guided Tour --SOLD OUT--
5. The Cardiff Blitz and Cathays Cemetery --SOLD OUT--
6. Another batch of Murders at Cathays --SOLD OUT--
7. The Railway Connection at Cathays Cemetery --SOLD OUT--
8. Builders & Architects at Cathays Cemetery
9. The Five Legs of Cathays
10. Tragedy at Sea - A Guided Tour
11. First World War Soldiers - Absent but Remembered
12. Restoring the Chapels at Cathays Cemetery --NEW--
13. The Turners & Other Builders in Cathays Cemetery --NEW--
The Friends of Cathays Cemetery have also produced a number of free Publications regarding topics about the Cemetery.
| No | Title | Format |
| --- | --- | --- |
| 001 | Henry James Paine | pdf |
| 002 | John Batchelor - Friend of Freedom | pdf |
| 003 | Vachells - Medicine Men of Cardiff - Family Tree | pdf |
| 004 | John Cory and Sons, Ltd. - Family Tree | pdf |
| 005 | Cory Brothers and Company Limited | pdf |
| 006 | Morel - Family Tree | pdf |
| 007 | Reardon-Smith - Family Tree | pdf |
| 008 | List of Cardiff Mayors | pdf |
| 009 | Mid-Summer Heritage Walk | pdf |
| 011 | The New Cemetery Heritage Walk | pdf |
| 012 | World Tour Lecture | pdf |