THE ARCHIVE
Over the years the Friends have amounted a large archive of material on the Cemetery. Here we offer some items that may be of interest to the Reader.
Palm Sunday 1899
Welsh Newspapers Online
The ancient custom of adorning the graves of relatives with flowers was generally observed throughout Wales on Palm Sunday, and with fine weather in 1899 thousands of people visited Cathays Cemetery, and at times in the afternoon it was difficult to pass along. However it was reported that despite the Crowds, "there was no breach of order or decorum". Below a view by Cathays Library before it had been built in 1907.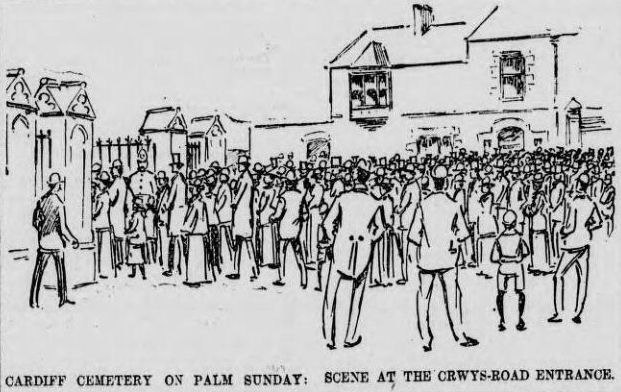 Welsh Newspapers Online
War Memorials
| | |
| --- | --- |
| | During 2008 two First World War Memorials were stored in the dilapidated chapels. Does anyone know which locations they came from? |
First Burial
The Receipt Book from 1859 shows details of the first Burial in the Cemetery - of Maria Delores de Pico
Courtesy of Cardiff Bereavement Services
Better Days
Could this be a photo of one of the final days the Chapels were in use - 1980s? Notice the tiled floor, now under the new suspended oak flooring. The original glass appears to be opaque with an orange centre.
Courtesy of Cardiff Bereavement Services
Postcards
This postcard from before the Second World War shows the original taller spire. There are also a number of architectural differences. Note especially the odd shaped building appended to the rear of Chapels.
Courtesy of Cardiff Bereavement Services
| | |
| --- | --- |
| | A photograph taken of the front of the Chapels shows a large amount of trees and shrubbery. Compare the height and design of the spire to the previous postcard. |